So, like most girls, I love Alexa Chung. If I could dress like anyone, it would probably be her. She mixes and matches in the most effortless way. She is the type of girl who could be your best friend - funny, down to earth and a bit of a dirty mouth! I personally love her style because I feel like I could actually dress like her. It's not all high-end designer clothing. Yes, there is some of that in there, but there is a lot of vintage/thrifted items in there too! Plus she is a fan of skirts and dresses, which you will find me in 6 out of 7 days during the week. I like how she leans towards being girly as opposed to being "edgy." I feel like there is so much of that look in NYC and it's really just getting kinda boring. She is also a constant reminder that when in doubt, go for something simple and classic - like stripes!
Ok, ok. Enough of the drooling and on to the point! I went into work yesterday and my boss told me that Alexa Chung is designing a line of clothing for
Madewell
that will debut in the fall!! I can't even tell you how excited I was! Maybe I should add more exclamation points to this post!!!!!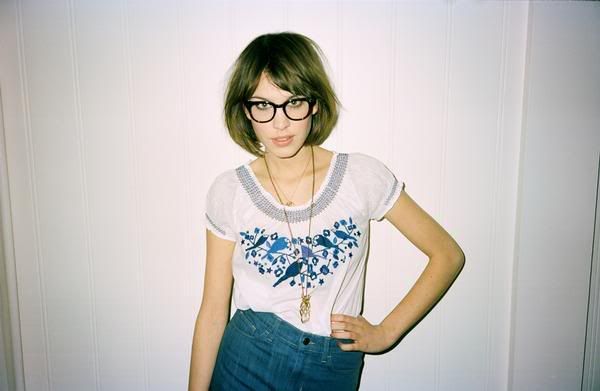 Here is an excerpt from
the Vogue article
:
"The first pieces from the collection will be available this September, and will be sold under the label Alexa Chung for Madewell. "Pretty original, huh?" she says, laughing. "I'd wanted to call it Better than a Poke in the Eye [a Britishism for "better than nothing"], but I think we'll save that for the buttons on the jeans." So, denim, then? "Yeah, because it is a big thing for them. We're doing dungaree dresses." The design directive she gave to herself was: "Things my girlfriends would wear, and say, 'That's sick!' " Expect high-waisted pants and jeans, velvet dresses with Peter Pan collars, and a coat based on a vintage children's one she found that originally came from Harrods. There will be nothing that nods to the eighties or nineties, because she's not into either decade. "I want to bring back forties tea dresses, sixties mod dresses. . . . I want to bring cute back." If she means cute of the non-saccharine, supercool variety, she already has."
Photos via
Photobucket
and
listal.com